OAEM Mental Health Break - Benefits of Indoor Plants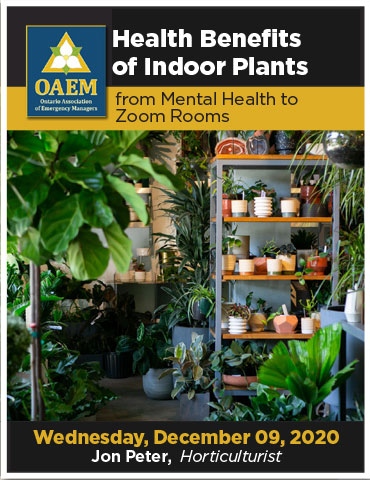 Benefits of Indoor Plants - From Mental Health to Zoom Rooms
Jon L. Peter – Curator & Plant Records Manager, Royal Botanical Gardens
December 9, 2020
Thank you to the Ontario Association of Emergency Managers for inviting me to present on this important topic and thank you to all who attended the presentation. I hope you learned how you can improve your "zoom" room and interior spaces and learned about the many benefits of successfully cultivating plants indoors.
The benefits of cultivating plants indoors are substantial, including improving indoor air quality, mental wellness, and physical health. These benefits can lead to improved job satisfaction and increased productivity when working from your home office. Remember, growing just ten plants in a room is recommended for optimum health and wellbeing benefits. Please consider reaping the rewards by surrounding yourself with a diversity of plants.
Please let me know if you need anything else.
Thanks again!
Jon L. Peter
Curator & Manager of Plant Records
Royal Botanical Gardens
jpeter@rbg.ca