Situational Awareness at Your Fingertips
Situational Awareness at Your Fingertips
John Klich February 21, 2021
---
Emergency managers are constantly striving for information to evaluate risk, advise decisions, guide responses and assess outcomes.
In this post, I'll be using examples of Ontario relevant websites to cover how to create a situational awareness dashboard including:
Environmental conditions
Power status
Fuel availability
Transportation incidents
Environmental
Regardless of season, weather can have a significant impact on communities. Keeping tabs on severe weather conditions is essential to managing risk and response.
The Weather Network
(iOS, Android, URL) is a staple for providing weather conditions, forecasts, radar, alerts and warnings.
Air Quality Health Index (AQHI) is a health protection tool to help inform decisions based on exposure to air pollution. A high AQHI coupled with other environmental factors like extreme heat can negatively impact response efforts like evacuations and resource staging. There are a number of sources for AQHI including
Ministry of the Environment, Conservation and Parks
(Ontario) and
Weather Canada
.
Flood monitoring - Many regional conservation authorities provide hourly data on river flows, dam & reservoir levels, and river cameras. Some offer subscriptions to flood warnings and shoreline conditions when conditions become hazardous.
TRCA flood monitoring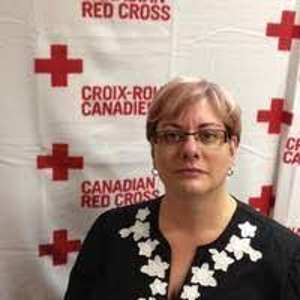 Screenshot 2021-02-20 @ 17:12
Power
Many regional power suppliers provide an online outage map indicating power disruptions, the number of affected customers, and estimated times of restoration.
Toronto Hydro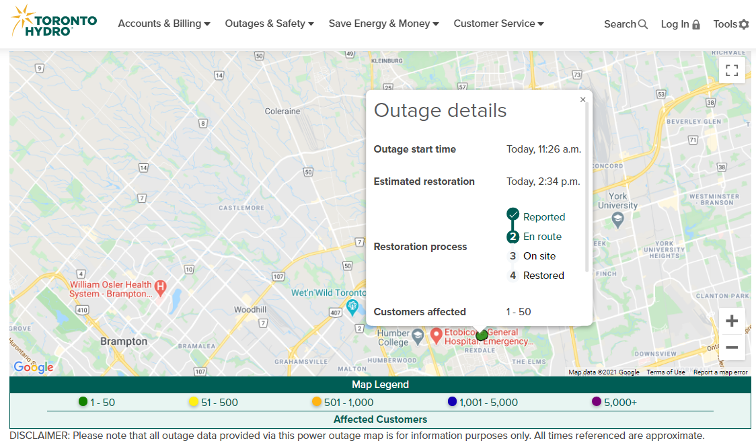 Screenshot 2021-02-20 @ 11:59 EST https://www.torontohydro.com/outage-map
Personal Tip!
Some suppliers also offer alerting services that will send a notification when there is an outage detected for a specific address (very handy to know when you are away from home). Check your account website with your local provider to see if this feature is available.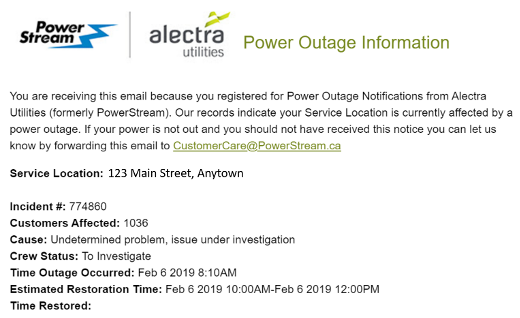 Fuel Availability
GasBuddy (iOS, Android,
URL
)
Crowd sourced data provides near real time gas prices & more in Canada and the USA.
Use the "Outage Tracker" to monitor fuel availability and power at stations within a specific area.
The following screenshot shows the gas availability in the Houston area on February 20
th
following a winter storm 4 days prior.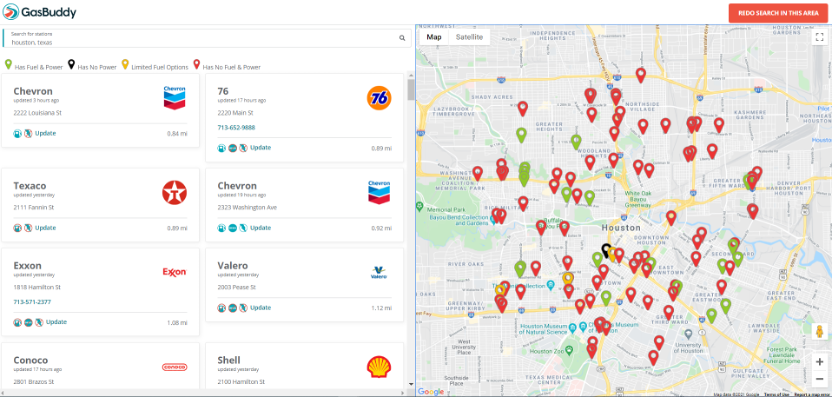 2021-02-20 @ 12:20 EST
https://tracker.gasbuddy.com/?_ga=2.82669078.1404763610.1613841056-1607430732.1613840932&q=houston%2C%20texas
Transportation
511 App (iOS, Android,
URL
)
This is a great source of up to date information on Ontario roads including incidents, closures, highway cameras, snow plow tracking, construction, road conditions and more.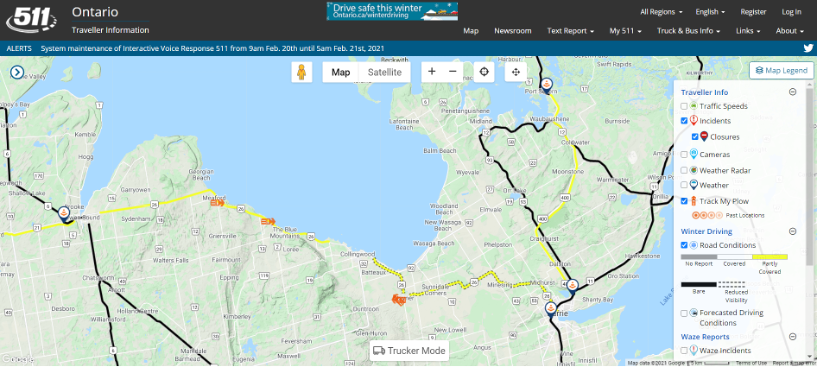 2021-02-20 @ 12:32 EST
https://511on.ca/?ll=43.696424,-79.459648&z=10#:Alerts
Personal Tip!
You can set up customized routes with notifications to stay informed about delays.
Cameras - Depending on your region, open source traffic cameras may be available to provide "eyes on the roads". Cameras typically only provide still photos that are refreshed every few minutes.
There are many sites available with camera feeds including 511on.ca and The Weather Network.
Some municipalities have traffic cameras that can provide good situational awareness for public events like demonstrations and traffic incidents. During the 2019 Raptors Parade in Toronto, our operations centre tracked the size of the crowds and the progress of the parade for over 6 hours using Toronto's
RESCU
cameras.

Crowds along Raptors parade route June 17, 2019 at 11:20 & 12:02
Note at 12:02, traffic stopped along the elevated expressway & the corresponding expressway view with crowds extending onto the expressway off ramp.
Putting everything together into a functional dashboard
Select the best sites for the information you want to track.
Reviewing and updating these sites is important as new sources become available.
Bookmark the sites into a specific folder for easy access.
Open each site you want to monitor in its own tab.
Use a browser extension like Revolver-Tabs for Chrome to automatically rotate through open tabs. You can customize how long each tab is displayed and best of all when the tab is shown, it is automatically refreshed for the most recent data. Advance settings allow you to customize the reload and switching time for individual webpages.
Having one computer with a large screen dedicated to situational awareness is good practice to keep the information in the forefront; alternately, having a second screen displaying a separate dedicated browser will also work.
Depending on your operational needs, there are many open sources available to inform situational awareness. In some instances, the sites and dashboard can be preformatted for the type of incident or event like a parade or festival. Get creative and search out a variety of open sources relevant to your jurisdiction; experiment with putting the information together in a meaningful and efficient way.
---
John Klich is a Superintendent with Toronto Paramedic Services, currently assigned to supporting the Ambulance Communications Centre. His primary focus is business continuity and emergency preparedness & planning to ensure the 9-1-1 call centre is operating 24/7. John is the OAEM Director of Partnerships.